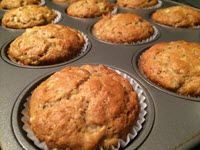 Perfect for over ripe bananas. This recipie uses oat flour which I make by grinding a little oatmeal in a blender. You don't need any special attachment, just a blender about 1/4 full of regular rolled oats, and grind them up that way.
Ingredients
3 mushy bananas
1 stick of butter
2 eggs
1/2 cup brown sugar
1/4 cup vegetable oil
1 cup flour
1/2 cup oat flour
1/2 tsp salt
1 tsp baking powder
1 tsp baking soda
2 tsp cinnamon
1 & 1/2 cup nuts, I like walnut, almond, sunflower, peacan or cashew for this recipie
Preheat your oven to 350 degrees and prepare the muffin pans by spraying or wiping them with canola oil.
The best way to open a banana is to pinch of the end that has no stem and peel back the skin from there.
In a large mixing bowl with high sides, add the three peeled bananas, two eggs, softened stick of butter and brown sugar, (the "wet ingredients"), In another very large bowl measure out the dry ingredients: 1 cup flour, 1/2 cup oat four, salt, cinnamon, baking powder and baking soda.
Mix in the nuts.
Spoon the mixture into the greased muffin tin, lined or unlined. Bake at 400 for around 20-25 minutes.